33 days remain in our 1001 days. Can you believe it? It's very hard for us to believe, that's for sure. So, it's down to the wire & we're taking stock of the items we have yet to do.
#3: Not gonna happen. This was kind of a stretch, anyway, 'cause I don't like crab.
#9, 10, 11, and 13: Won't be travelling to any of these spots in the next month.
#15: We might make it to Starved Rock. Totally depends on weather.
#22: Powerwashing in winter is generally not doable.
#32: We are so close to paying off a credit card. SO close. I just don't know if we can close that gap fast enough. We've had an awful lot of unanticipated expenses. And an extra $10,000 in adoption related fees. And $12,000 worth of dental work. Yeah.
#34: I think we can do this one, H doesn't.
#38, 39: Again, not traveling to these spots anytime soon. I am thinking I may cross off 39, though. We made several attempts & finally wound up in a different section of WI. Does that count?
#40: 1,000,000 grains of rice is a lot. We gave up on this when we saw how long it was taking to accumulate. I may round it out to 100,000 grains, just for good measure.
#45: Hey, we actually did this one ... just didn't find any new blades we wanted.
#46: We kept checking for classes, but Brookfield Zoo seems to have discontinued adult classes, unfortunately. I'll cross this one off. We tried, dammit.
#48: We might luck out & see Northern Lights here at home. But I doubt it.
#61: We did this one yesterday! We had a fabulous time, too, with Chef Luca Corrazzina!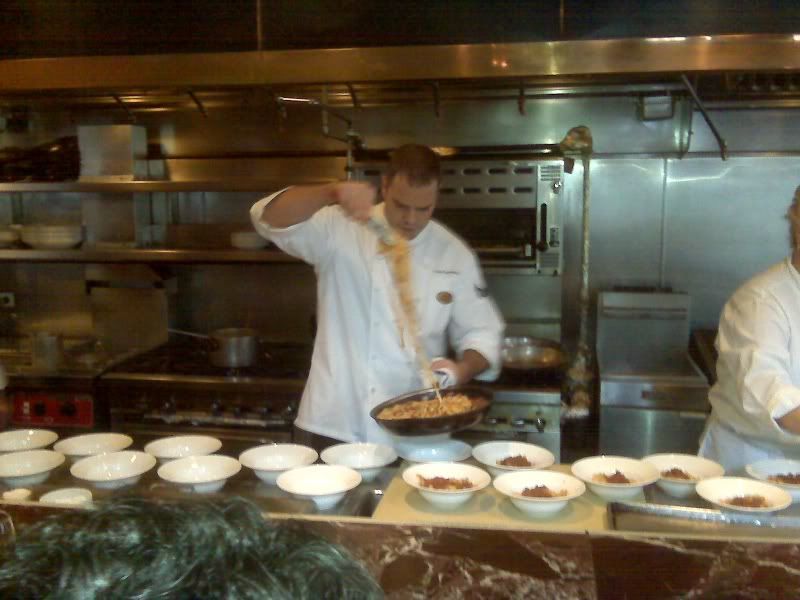 #65, 66: More travel ones we can't meet. Since we went full bore on the adoption process, our traveling has been dramatically reduced.
#68: H just informed me he can't tolerate to scale his computer use back this much. I was prepared to try, but he doesn't want to give it an effort.
#69: We're going to tackle this one right now, and we'll get in just under the wire!! We'll enjoy spending more time in the living room with visitors & the Christmas tree! And maybe I can try to secretly get him to read the Bible. And we'll cross off that item, too.
#77: No funds to buy bookcases, sadly.
#81: We are almost done with this one ... just have to make up a conscious effort to use up the rest of the shower gel/body wash. I am still amazed we're working on this one almost 3 years later! We apparently just do NOT use up this stuff very fast!
#87: We went to only one location where he wore his snazzy shoes. He really needs to wear them more often. For as much as he spent on them, they need to get some more wear, that's for sure. Dang.
#89: H informs me that he is unwilling to learn banjo if he has to drive very far, so although we've located a place that teaches, it's too far for him to trek. This one is checked off!
#95: We are very close to having our holiday shopping completed & it looks like for 3 years in a row, we'll be coming in at/under budget.
#97: Like the bookcases, I don't think this is in our future. Too many other places for our money to go. And taking a $5 hit for the incomplete item is way cheaper than a coat.
#60: I guess we can cross this off once we know how much we're donating for the incomplete items, right? Right now, it looks like 17 of our 101 items will be undone. So, we'll be donating $85 somewhere.